Rainbow Body (2000) for orchestra
Duration: 13 minutes
FIRST PERFORMANCE: Houston Symphony/Robert Spano/ April 2000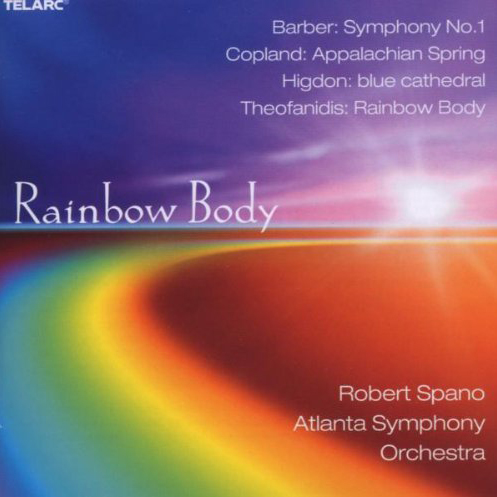 Listen
Atlanta Symphony/Robert Spano, conducting
BACKGROUND
Rainbow Body was the coming together of two ideas- one, my fascination with Hildegard of Bingen's music (the principal melody of Rainbow Body is loosely based on one of her chants, "Ave Maria, O Auctix Vite"), and two, the Tibetan Buddhist idea of "Rainbow Body," which is that when an enlightened being dies physically, his or her body is absorbed directly back into the universe as energy, as light.  This seemed to me to be the metaphor for Hildegard's music as much as anything.
PROGRAM NOTES
In the past few years I have been listening to the music of medieval mystic Hildegard von Bingen a great deal, and as simple and direct as this music is, I am constantly amazed by its staying power.  Hildegard's melodies have very memorable contours which set them apart from other chants of the period.  They are wonderfully sensual and set up a very intimate communication with the divine.  This work is based on one of her chants, 'Ave Maria, o auctrix vite' (Hail Mary, source of life). 
Rainbow Body begins in an understated, mysterious manner, calling attention to some of the key intervals and motives of the piece.  When the primary melody enters for the first time about a minute into the work, I present it very directly in the strings without accompaniment.  In the orchestration, I try to capture a halo around this melody, creating a wet acoustic by emphasizing the lingering reverberations one might hear in an old cathedral.
Although the piece is built essentially around fragments of the melody, I also return to the tune in its entirety several times throughout the work, as a kind of plateau of stability and peace within an otherwise turbulent environment.  Rainbow Body has a very different sensibility from the Hildegard chant, with a structure that is dramatic and developmental, but I hope that it conveys at least a little of my love for the beauty and grace of her work.
Rainbow Body is dedicated to Glen Rosenbaum, without whose support and encouragement I would not be composing.
—Christopher Theofanidis